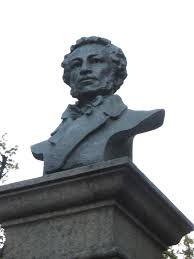 I Loved You
I loved you; even now I may confess,
Some embers of my love their fire retain;
But do not let it cause you more distress,
I do not want to sadden you again.
Hopeless and tonguetied, yet I loved you dearly
With pangs the jealous and the timid know;
So tenderly I loved you, so sincerely,
I pray God grant another love you so.
Alexander Pushkin
http://falcon.jmu.edu/~pleckesg/Pushkin/Operas.html
Many composers -- Russian and otherwise -- wrote operas based on the works of Pushkin.
Verse Works
The Triumph of Bacchus--Aleksandr Dargomyzhskii (1848) Ruslan and Liudmila--Mikhail Glinka (1842) Eugene Onegin--Piotr Chaikovskii (1879) Mazeppa [Based on Poltava--Piotr Chaikovskii (1884) Rusalka--Aleksandr Dargomyzhkii (1856) The Captive of the Caucasus--Cesar Cui (1883) Aleko [Based on "The Gypsies--Sergei Rakhmaninov(1893) Mavra [Based on "The Little House at Komna--Igor Stravinskii (1922)
Fairy Tales
The Tale of Tsar Saltan-- Nikolai Rimskii-Korsakov (1900)
The Golden Cockerel-- Nikolai Rimskii-Korsakov(1909)
Little Tragedies
The Stone Guest--Aleksandr Dargomyzhskii (1872)
Mozart and Salieri--Nikolai Rimskii-Korsakov(1898)
A Feast in the Time of Plaque--Cesar Cui (1901)
The Covetous Knight--Sergei Rakhmaninov (1906)
The Big Tragedy
Boris Godunov--Modest Musorgskii (1869)
Prose Works
La Dame du pique--Fromental Halevy (1850)
Pique dame--Franz von Suppe (1865)
The Queen of Spades--Piotr Chaikovskii (1890)
The Captain's Daughter--Cesar Cui (1911)
Dubrovskii--Eduard Napravnik(1895)
Winter Night [Based on "The Snowstorm"]--Ivan Dzerzhinskii (1946)
Lizinka [Based on "Mistress into Maid"]--Ivan Zajc(1878)
http://www.pbs.org/wgbh/pages/frontline/shows/secret/fa...ushkingenealogy.html
Although the vast majority of African Americans are unfamiliar with Pushkin's monumental works, most students of literature are at least aware of his "Blackamoor of Peter the Great," an unfinished romance which relates the biographical data of the poet's great-grandfather, Ibrahim Petrovitch Gannibal his black great-grandfather.
http://www.kirjasto.sci.fi/puskin.htm
Pushkin's Evgenii Onegin (1833), a novel in verse, is considered the greatest masterpiece of Russian literature. Evgenii Onegin is a dashing young aristocrat : "In French Onegin had perfected / proficiency to speak and write, / in the mazurka he was light; / his bow was wholle unaffected."
I play a Chopin Mazurka now! My bow is OK.