From
here:
quote:

Her real name is Hue Dang Trinh but her followers know her by the name Supreme master Ching Hai, the Chinese enlightened master. Originally born in Au Lac, Vietnam she spent much of her adult life in Taiwan. Ching Hai was brought up as a Catholic by her parents, but learned the basics of Buddhism from her grandmother. Suma Ching Hai's grandmother was a Buddhist, who taught her the scriptures and Buddhist worship. Her father was a highly respected Naturopath who loved to study world literature and was especially interested in philosophy.

When she was young an astrologer pronounced that the young Ching Hai possessed 'supernoble character and morals.' She would often be reading philosophical literature while the other children were doing homework and playing. This along with other spiritual influences molded her to what she is today.

When she was young she disliked when someone would harm plants. She got very upset, because she could feel their pain, and says we really shouldn't harm plants without any reason. She has been known often to take a wounded animal home, to care for it. If she saw an animal slaughtered, she would cry. All her life she's been repulsed by the sight of killing animals for meat and wishing that she could prevent the suffering in the world. She has always been a vegetarian.

Her appeal is to bring peace to all brothers and sisters, which is done by her meditation technique and prayer. "We can change histories outcome by doing this method" she claims.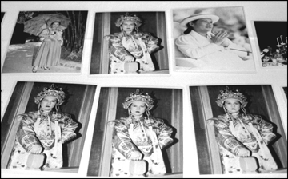 From
here:
quote:



Ching Hai's name is new to most cult experts, but her behavior, and that of her followers, is not. The Chicago-based Cult Awareness Network provides lists and definitions of common cult practices. Under "Techniques of mind-control," one finds a description of "thought-stopping techniques" such as "meditating, chanting and repetitious activities which, when used excessively, induce a state of high suggestibility." Also noted is the concept of "love-bombing," which "discourages doubts and reinforces the need to belong through use of child-like games...

A tireless publicity seeker, Ching Hai never misses an opportunity to gain credibility and clout for her organization. She often claims to have been invited to the conspicuously prestigious locations for her lectures--Georgetown University, UCLA and the United Nations buildings in Geneva and New York--but rarely says by whom. She also claims that seven United States governors proclaimed Feb. 22, 1994, as "Supreme Master Ching Hai Day." As it turns out, the governor of Iowa, Terry Branstad, actually did, in recognition of her $65,000 donation to relief efforts for victims of the Mississippi River flooding.
From
here:
quote:

Both a religious idol and a Third World aristocrat, Ching Hai bears more than a passing resemblance to Imelda Marcos, adorned in her self-styled "fairy clothes," which models have paraded down runways in the world's fashion capitals. A Buddhist nun who preaches asceticism, Ching Hai can nevertheless be seen in her magazine, Suma Ching Hai News, giving makeovers and fashion tips to female followers. "A listless-looking and middle-aged fellow sister, after being made up by Master, turned into a totally new person in five minutes," reads the article next to a full-color photo spread. "Everyone exclaimed:'Even the not-so-great ones become beautiful!' " And though Ching Hai claims that one has no need of anything on earth except the truth, she freely admits that selling her merchandising creations supports her worldwide organization.

The Hai Life

Like many Eastern belief systems, Ching Hai's centers around meditation, but her own method, called Quan Yin, contains "The Key of Immediate Enlightenment"--no waiting necessary. "Quan means 'contemplation,' and Yin means 'inner vibration,'" explains Pam-ela Millar, a Ching Hai representative living in Palo Alto. "It's kind of the light and the sound. It's basically a silent meditation."

This is about all the information one can coax from the Ching Hai group about the Quan Yin method, which they guard like a secret recipe. "I will explain everything during initiation," Ching Hai says in public. Initiations take place at the 40-acre Ching Hai Meditation Center in Morgan Hill, to which actual visits are discouraged. Almost all that is known about the group's actual methods is that it requires keeping a strict vegetarian diet and meditating a minimum of two and a half hours per day while chanting the Master's name.

Ching Hai also teaches what she calls the Convenient Method--a sort of Quan Yin Lite for new initiates--which requires meditating only half an hour per day, and eating vegetarian for 10 days per month.
From
here:
quote:

Supreme Master Ching Hai, or Suma Ching Hai, is a spiritual teacher of the Quan Yin Method, a form of meditation, that she claims, saviors such as the Buddha and Jesus used. Her date of birth is thought to be in the 1950s.

She professes to be an incarnation of God, the Buddha, and the Bodhisattva Avalokitesvara, popularly known as Quan Yin, for which her meditation method is named after. She has lectured extensively around the world, promoting her form of meditation as the only one by which an individual can attain the highest level of divine realization. To practice this form of meditation, she requires beginners to undergo an initiation, in which 'Master' reveals the inner light of god that is within us all.
I found this all so interesting and just wanted to share it. As spiritual mumbo-jumbo goes, this sounds halfway reasonable. I mean, I could do the 1/2 hour a day meditation and vege every third day...

What she talks doesn't sound that unreasonable.

To sell fashion for Buddhist causes? Why not?!? I like the "inner light of god that is within us" and other quotes I've found...

and...



I LIKE HER HATS!!!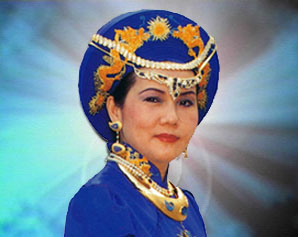 Love and
S
, Teo Do (Re, Mi, Fa...)