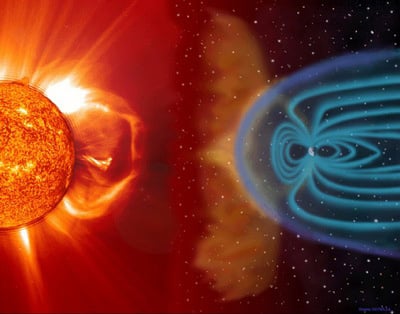 image of the Sun and an artist's impression of Earth's magnetosphere - Nasa/EsaLeaning into each other's soul
Perched in the sacred tree of life
shooting through misty dawn
we pretended to enjoy freedom.
Until we met perchance
upon parallel thought waves
which had traveled far in unison
to merge above love horizons.
Leaning into each other's soul
we now breathe as one
chi flows unhindered and free,
in placid rivers of consciousness,
over sleeping volcanoes.
Glued together by flames of desire
we can't lose each other,
even when on wild wheels
we race in opposite directions,
swallowing different highways.
Because thought waves are like angels
... they move above light speed.
Leaning into each other's soul
we discover the perfect place to meet,
...it quietly waits for us
at the very core of the Whole.
Love,
Margherita